Recent news:
Combining heterogeneous observations in regional gravity field modeling
Gravity field determination is a major topic in geodesy, supporting applications from Earth system science, orbit determination or the realization of physical height systems. Coarse resolution global gravity field information from satellite observations can be combined with high-resolution gravity data from airborne, shipborne, or terrestrial measurements for regional gravity refinement. In this process, regularization is in most cases inevitable, and choosing an appropriate value for the regularization parameter is a crucial issue. Variance component estimation (VCE) and L-curve method are two frequently used procedures for choosing the regularization parameter.
VCE simultaneously determines the relative weighting between different observation types and the regularization parameter. The prior information is regarded to be another observation type and is required to be stochastic. However, in most of the regional gravity modeling studies, a background model serves as prior information, which has no random character but is deterministic. In this case, the regularization parameter estimated by VCE can be unreliable. On the other hand, the L-curve method (or other conventional regularization methods) cannot weight heterogeneous observations.
To overcome these drawbacks, scientists of DGFI-TUM developed two 'combined approaches' for the regularization parameter determination when different data sets are to be combined. The two approaches combine VCE and the L-curve method in such a way that the relative weights are estimated by VCE, but the regularization parameters are determined by the L-curve method. They differ in whether determining the relative weights between each observation type first (VCE-Lc) or the regularization parameter by the L-curve method first (Lc-VCE). Numerical investigations show that these two proposed approaches deliver lower RMS errors with respect to the validation data than the L-curve method and VCE do. Details are provided in the recent article Determination of the Regularization Parameter to Combine Heterogeneous Observations in Regional Gravity Field Modeling (Remote Sensing, 2020, doi: 10.3390/rs12101617, [PDF]).
 
Satellite-based time series of volume variations of small inland water bodies
In the debate of climate change impacts, the availability and accessibility of freshwater on Earth is an extremely important topic. About 0.25% of the Earth's freshwater is stored in lakes and reservoirs. A large fraction of these water bodies is characterized by strong storage changes, not only with the seasons, but also in the long-term in consequence of, e.g., human interference or climate-related phenomena. Furthermore, the number of reported flood events relating to inland waters is steadily increasing, from about 150 in 1980 to more than 400 in recent years. Various tasks, such as water resource management, water supply or civil protection require accurate and current information about water storage. In the light of decreasing ground-based measurements, remote sensing techniques have become extremely relevant for the monitoring of lakes and reservoirs worldwide.
Since many years, DGFI-TUM has been working on the determination of accurate water level changes from satellite altimetry also for small inland water bodies and provides respective time series for more than 2740 targets in its Database for Hydrological Time Series of Inland Waters (DAHITI). A newly developed approach now combines these data with areal information from remote sensing images and thus enables the determination of volume changes. For each water body, the underlying algorithm creates a fixed water level/surface area relation (so-called hypsometry) and a high-resolution bathymetry above the lowest observed water level. Details can be found in the article Volume Variations of Small Inland Water Bodies from a Combination of Satellite Altimetry and Optical Imagery (Remote Sensing, 2020, doi: 10.3390/rs12101606, [PDF]).
The procedure was applied to 28 lakes and reservoirs located in Texas, USA, with volumes between 0.1 km³ and 6.0 km³. Validation with ground data features correlation coefficients between 0.80 and 0.99. The relative errors vary between 1.5% and 6.4% with an average of 3.1%. All data are publicly accessible via DAHITI.
 
Regional high-resolution ionosphere maps for continental regions
Ionospheric signal delay is one of the largest error sources in GNSS (Global Navigation Satellite Systems) applications and can cause positioning errors in the order of several meters. Especially for single-frequency users, who cannot correct for ionospheric signal delay, external information about the state of the ionosphere is essential. The International GNSS Service (IGS) and its Ionosphere Associated Analysis Centers (IAAC) routinely provide this information in terms of global ionosphere maps (GIM) representing the Vertical Total Electron Content (VTEC). The GIMs are typically limited in their spatial and spectral resolution (spherical harmonic degree 15) caused by the globally inhomogeneous distribution of GNSS observations used for GIM generation. Regional GNSS networks, however, offer dense clusters of observations, which can be used to generate regional VTEC solutions with a higher spectral resolution.
Based on a two-step approach which comprises a global model and a regional densification, scientists of DGFI-TUM have developed an algorithm to generate regional VTEC maps with higher spectral resolution accounting for the finer signal structures. The algorithm is integrated in a software package to provide VTEC maps using hourly GNSS data and ultra-rapid orbits. It allows for the dissemination of VTEC maps with a latency of 2 to 3 hours.
A numerical study for March 2015 based on hourly GNSS data provided by the IGS and the EUREF network is presented in the article Global and Regional High-Resolution VTEC Modelling Using a Two-Step B-Spline Approach (Remote Sensing, 2020, doi:10.3390/rs12071198, [PDF]). Validation with independent data shows that the generated regional high-resolution VTEC maps are of comparable accuracy to the regional maps provided by the Royal Observatory of Belgium, currently being the best known publicly available product for Europe. While the latter is provided with a latency of about one week, DGFI-TUM's VTEC maps are characterized by low latency allowing for high precision positioning and navigation.
 
Wave heights in the ocean: A round robin assessment of satellite altimetry retracking algorithms
Satellite altimetry is a key technique for the observation of the world's oceans. Initially, it has been introduced to determine the ocean surface topography and changes of the sea level by repeatedly measuring the distance between a satellite and the water surface. This distance relates to the round-trip travel time of a radio pulse emitted by the satellite and reflected by the water. But the shape of the radar echo received also enables to study other relevant conditions at the ocean surface, such as significant wave height (SWH) and wind speed. Both of these quantities are related to the sea state, the knowledge of which is essential for numerous applications, e.g. ocean wave monitoring (for fishing or shipping route planning), weather forecasting, or wave climate studies. Information on the sea state is received from the radar echo using an algorithmic approach called retracking.
In the framework of the European Space Agency Sea State Climate Change Initiative (SSCCI) project a competitive exercise (round robin) has been conducted to determine the best retracking algorithm for sea state retrieval. The assessment is focused on the Jason-3 and Sentinel-3A missions, representing the two main satellite altimeter technologies: the so-called "Low Resolution Mode", which encompasses over 25 years of data, and the newest "Delay-Doppler Mode", which exhibits an improved along-satellite-track resolution and signal-to-noise-ratio. 19 retracking algorithms from six international research groups were included in the study. Results showed that all novel retracking algorithms perform better in the majority of the metrics than the baseline algorithms currently used for operational generation of the products. According to an objective weighting scheme that is based on the SSCCI criteria, DGFI-TUM's retracking algorithms WHALES (Low Resolution Mode) and WHALES-SAR (Delay-Doppler Mode) were ranked second best for all scenarios. Considering coastal scenarios only, WHALES proved the best performance among the Low Resolution Mode retracking algorithms. More details on the study are provided in the publication Round Robin Assessment of Radar Altimeter Low Resolution Mode and Delay-Doppler Retracking Algorithms for Significant Wave Height (Remote Sensing, 2020, doi: 10.3390/rs12081254, [PDF]).
 
Observation-based attitude model improves the orbits of Jason altimetry satellites
Surface currents in polar oceans from satellite altimetry complemented by ocean modelling:
A new dataset for the northern Nordic Seas
Deeper knowledge about geostrophic ocean surface currents in the northern Nordic Seas supports the understanding of ocean dynamics in this region characterized by rapidly changing environmental conditions. Monitoring the sea-ice-affected area by satellite altimetry results in fragmented and irregularly distributed data sampling and prevents the creation of homogeneous and highly resolved spatio-temporal datasets. In order to overcome this problem, an ocean model can be used to fill in data where altimetry observations are missing.
The joint study Geostrophic currents in the northern Nordic Seas from a combination of multi-mission satellite altimetry and ocean modeling (Earth System Science Data, 2019, doi: 10.5194/essd-11-1765-2019, [PDF]) of DGFI-TUM and the Alfred Wegener Institute (AWI) resulted in a novel dataset of geostrophic currents based on a combination of along-track satellite altimetry data and simulated differential water heights from the Finite Element Sea ice Ocean Model (FESOM). The combination approach is based on principal component analysis (PCA) and links the the temporal variability of along-track ocean topography from satellite altimetry with the most-dominant spatial patterns of FESOM differential water heights. Annual variability and constant offsets were removed from both datasets before combination and added back from altimetry to the combined dataset. Surface currents were computed applying the geostrophic flow equations to the combined topography. The resulting final product is characterized by the spatial resolution of the ocean model (around 1 km) and the temporal variability of the altimetry along-track derived DOT heights. Comparisons to in situ surface drifter observations demonstrate good agreement of spatial patterns, magnitude and flow direction. Mean differences of 0.004 m/s in the zonal and 0.02 m/s in the meridional component are observed. A direct pointwise comparison between the combined geostrophic velocity components interpolated to drifter locations indicates that about 94% of all residuals are smaller than 0.15 m/s.
The dataset provides surface circulation information within the sea ice area and will support a deeper comprehension of ocean currents in the northern Nordic Seas between 1995 and 2012. Data are available at https://doi.org/10.1594/PANGAEA.900691.
 
High-resolution ionosphere maps for precise GNSS applications
Enhancement of the Global Geodetic Observing System: Where to put the next SLR station?
Long-term measurements document sea level rise in the Arctic
Tracking down climate change with radar eyes: Over the past 22 years, the sea level in the Arctic Ocean has risen an average of 2.2 millimeters per year. This is the conclusion of an investigation performed jointly by DTU Space and DGFI-TUM as part of ESA's Sea Level Climate Change Initiative (CCI) project.
The most complete and precise overview of the sea level changes in the Arctic Ocean to date was obtained after evaluating 1.5 billion radar measurements of various altimetry satellites. A major challenge for a comprehensive analysis is the presence of sea ice which covers vast areas of the Arctic Ocean and obscures the ocean surface underneath. Applying DGFI-TUM's dedicated retracking algorithm ALES+ to ENVISAT and ERS-2 original measurements, radar echoes reflected even from small water openings in the ice could be identified and analysed. After harmonizing observation data from ice-covered and open water areas, maps of monthly sea level elevations were computed for 1996-2018.
Analysis of the long-term measurements revealed significant regional differences of sea level trends: Within the Beaufort Gyre north of Greenland, Canada and Alaska, the water stage rose twice as fast as on average. Low-salinity meltwater collects here, while a steady east wind produces currents that prevent the meltwater from mixing with other ocean currents. Along the coast of Greenland, on the other hand, the sea level is falling, on the west coast by more than 5 mm per year. Here, the melting glaciers weaken the gravity attraction. More information about the study can be found in the open access article Arctic Ocean Sea Level Record from the Complete Radar Altimetry Era: 1991–2018 (Remote Sensing, 2019, DOI: 10.3390/rs11141672, [PDF]). The results are also subject of a current TUM press release (English, German).
Time-variable surface areas of lakes and reservoirs monitored from space
Reference Systems – the Backbone for Positioning, Navigation and Earth System Research
River levels tracked from space
Coastal altimetry reveals wind-induced cross-strait sea level variability in the Strait of Gibraltar
Improving the precision of sea level data
The Alps in motion
New approach to estimate thermospheric density from SLR observations of LEO satellites
Improved tide modelling in coastal regions
Improved and homogeneous altimeter sea level record
New approach to resolve water level changes of small rivers with CryoSat-2 SAR altimetry
Next-generation global geodetic reference frames: The potential of Satellite Laser Ranging
Tracking openings in sea ice to increase our knowledge of the Arctic and Antarctic Ocean
The Arctic and Antarctic oceans are located in areas that are experiencing new conditions due to climate change (higher atmospheric temperatures, melting of ice sheets). Nevertheless, it is difficult to understand the changes in sea level, due to the fact that large areas are seasonally or permanently covered by sea ice. Scientists at DGFI-TUM have developed a new technique to spot the leads, i.e. openings in sea ice that uncover the sea surface, by analysing the data of ESA's successful Cryosat-2 mission.
The radar altimeter on board sends electromagnetic waves and collects the reflections from the ocean surface at different incidence angles. But the retrieval of meaningful sea level estimates requires not only the recognition of the leads. It also needs to be ensured that the openings are perpendicular to the satellite position (nadir position).
As the sea is calm and flat, the leads act like a mirror for the satellite: they could be easy to recognise, but their reflection is so strong that it has a signature on the data also at other incidence angles. An undetected lead is a missed opportunity to measure sea level, but a lead detected when not at nadir can cause a wrong estimation.
By tracking the signature that the leads leave on the collected data, it is possible to improve the detection capabilities. This is shown in the publication Lead Detection using Cryosat-2 Delay-Doppler Processing and Sentinel-1 SAR images (Advances in Space Research, 2017, DOI: 10.1016/j.asr.2017.07.011, [PDF]). The technique is also validated using radar images from Sentinel-1 (see picture above). This study will increase the reliability of the sea level analysis at high latitudes and thus contributes to improve the knowledge of the sea level dynamics in the Arctic and Antarctic oceans.
 
Monitoring the Arctic Seas: Satellite Altimetry traces open water in sea-ice regions
Near real-time modelling of the electron content in the ionosphere
Time series of sea level in the Mediterranean and North Sea with improved coastal performances
High-resolution river water levels based on multi-mission altimetry data
New flyers available: DTRF2014 and DAHITI
Two new flyers have recently been issued: The first one contains background information and directions for data access for DGFI-TUM's most recent realization of the International Terrestrial Reference System, the DTRF2014 (for more information about the DTRF2014 see message below).
The second flyer advertises DAHITI, DGFI-TUM's Database for Hydrological Time Series of Inland Waters that has been operated since 2013. DAHITI provides time series of water levels of lakes, reservoirs, rivers, and wetlands derived from multi-mission satellite altimetry for more than 400 globally distributed targets.
Both flyers can be accessed by clicking on the images on the right.
DGFI-TUM releases a new realization of the International Terrestrial Reference System: DTRF2014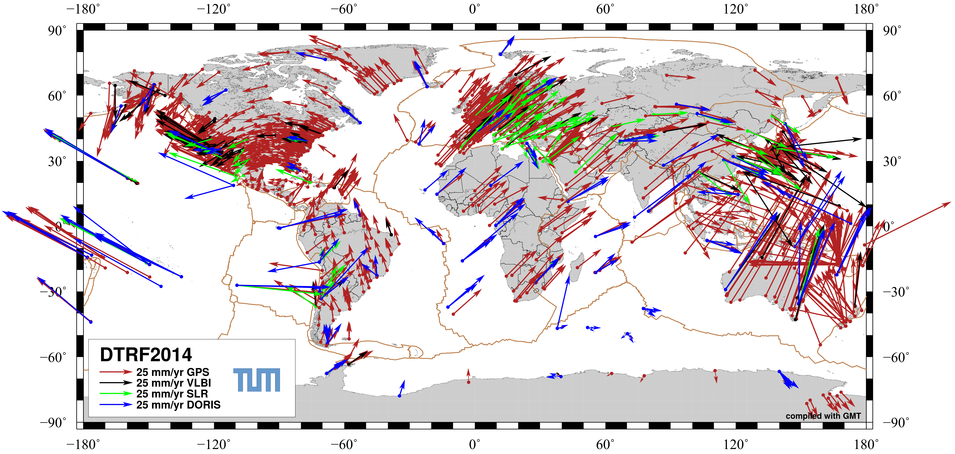 New surface deformation model for Latin America after the 2010 earthquakes in Chile and Mexico (VEMOS2015)
Innovative processing method for altimetry data allows for monitoring water level variations in wetlands
IAG adopts a new conventional value for the reference gravity potential W0 of the geoid
New flexible combination approach for regional gravity field modelling applied to Northern Germany
Data portal DAHITI: Water level time series of rivers and lakes from multi-mission satellite altimetry
DGFI-TUM contributes to the implementation of an UN Resolution for a Global Geodetic Reference Frame